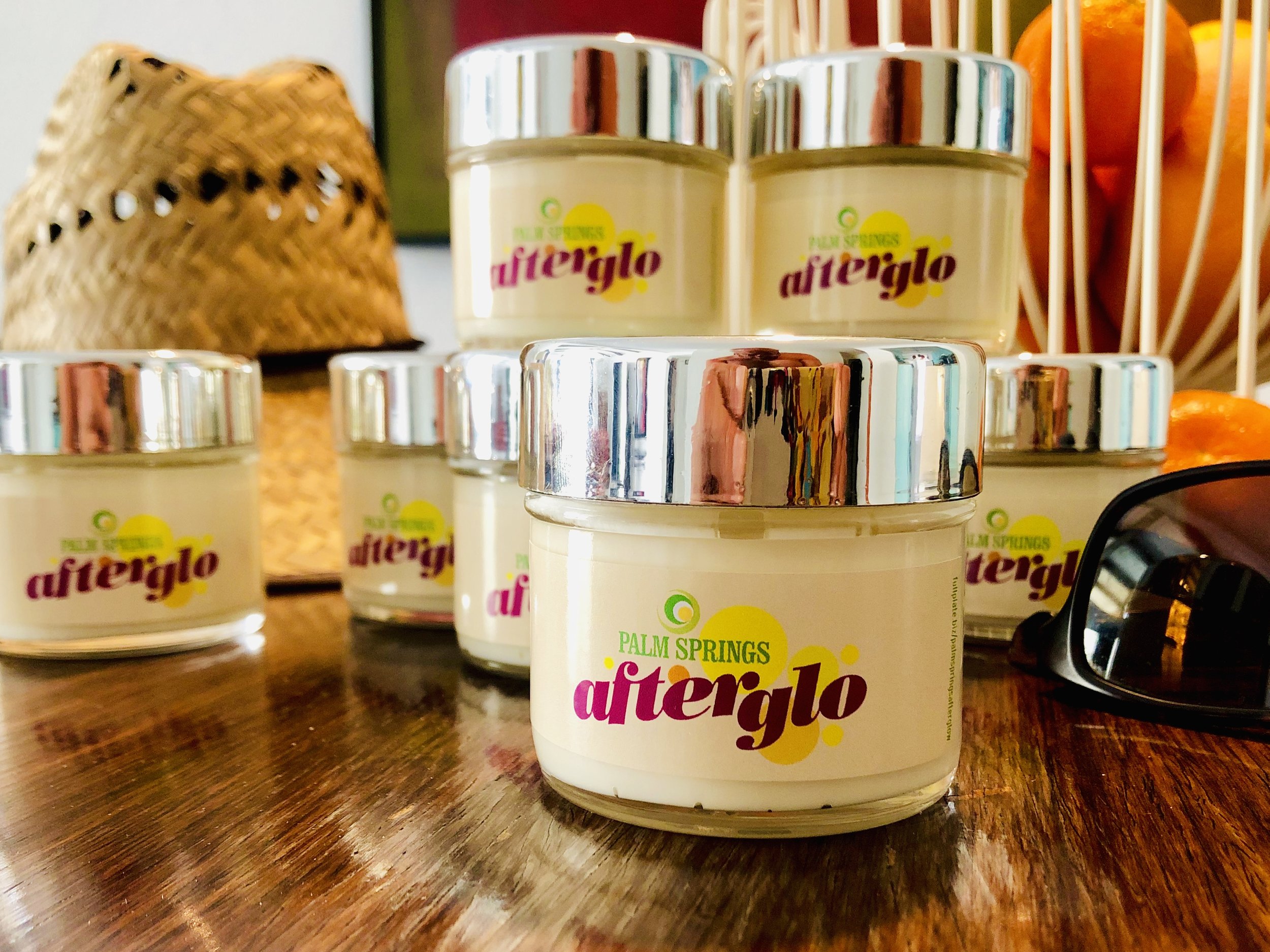 This remarkable skin-moisturizer is hand-crafted for a luscious, creamy texture, and pleasant spa-like scent.
It's a happy amalgamation of multiple commercially available moisturizers — along with emollient-rich cocoa butter, shea butter, organic beeswax, Manuka honey, and natural oils — which seem to work WAY better in this unique combo than solo.
Palm Springs AfterGlo feels luxurious, slick, and slightly oily. . . but it absorbs almost immediately. The scent is strong on application, but dissipates rapidly. People say it leaves them softy smelling "like I visited a spa" or " like I used an expensive European soap."
okay jay. . . You Nut! How'd you come up with a moisturizer?
When I moved to Palm Springs I was warned about desert dryness — and offered plenty of moisturizing suggestions. Through trial-and-error I found a moisturizer with Vitamins A & D that became my go-to. But I was left with a drawer full of different creams, lotions, oils, and butters — and some of them were really expensive!
So one day I had a "Eureka!" moment and put all of the moisturizers from that drawer into my Cuisinart. I added essential oils, honey, and some beeswax and whirled up a completely new moisturizer that my hands, face, arms and legs (even my sandal-callused feet) just drank up! It was a total "wow" experience!
I started gifting jars to friends — shortly thereafter requests for more, along with offers to pay, started coming in. Voila! That's how Palm Springs AfterGlo was born! Now I make a big, fresh batch every month or so to supply my happy customers, along with my own skincare needs.
Yeah, but what's in it? (I don't like a lot of chemicals and weird stuff!)
Keep in mind that — as a hand-crafted product — the ingredients vary a bit from batch to batch. But this is a pretty darned-good attempt to break down the ingredients for you:
Water; Mineral Oil; Cocoa Seed Butter; Shea Butter; Coconut Oil and its Caprylic Fatty Acid; Petrolatum; Aloe Vera Extract; Almond Oil; Extra Virgin Olive Oil; Organic White Beeswax; Vitamin E; Stearic Acid; Glycerin; Cetyl Alcohol; Glyceryl Stearate; Vitamin B5; Allantoin; Biotin; Jojoba Seed Oil; Safflower Seed Oil; Propolyne Glycol; Methylparaben; Propylparaben; Oat Kernel Extract; Argan Oil; Avocado Oil; Vitamin C (Ascorbic / Citric Acid); Vitamin A; Vitamin D3 ); Manuka Honey; Magnesium Chloride Hexahydrate; Dimethicone; Triethanlamine; and steam-distilled Lavender, Eucalyptus, Rosemary, Peppermint, Pine, Sweet Orange, and Geranium Essential Oil
Remember, most commercial moisturizers — even those for intended for babies and those with sensitive skins — contain a couple scary-sounding, long-chemical-named preservatives, humectants, and surfactants that make the moisturizers work. I researched what every ingredients is, and why its used. Thanks to my homework, I'm comfortable with every ingredient in Palm Springs After Glow.
Other uses? Go ahead, Try it on dry leather. . .you'll BE AMAZED!
I discovered that Palm Springs AfterGlo excels at restoring desert-dried, sun-faded leather belts, shoes, chairs and ottomans, and even car seats. The before-and-after results are truly remarkable. . . and face it, if an application or two of Palm Springs AfterGlo can make dried, worn leathers soft and supple once again, just imagine what it can do for your skin!

This sounds Amazing! You totally sold me! How do i get My hands on this amazing stuff?
Just drop me an email at fullplatebyjay@gmail.com or call me at (206) 954-6570.
Let me know how many 3 oz. cosmetic jars you'd like. Remember to include your email address, phone number, and your mailing address. (If you're in the Coachella Valley, I'll gladly hand deliver to your home — to save on costly shipping.)
Yeah, but How much does it cost?
The Q3 2019 batch of Palm Springs After Glow costs $15 for a 3 oz. cosmetic jar. Or, if you buy three at a time, it's only $12 per jar. If your order needs to be mailed, just tack-on $8 for shipping and handling per jar… it's about $12 to ship three. Cash or check, only.
HEY LET'S RE-USE AND RECYCLE: if you return your empty jar to me, you'll get $2 off your next order!
Give it a try. . . then let me know what you think!